Don't use your bins until 1 July, 2021!
If your bins have been delivered and are still on the kerbside after three or so (business) days, our contractor will be moving your bins from the kerbside to the property boundary. Please note that Council will not enter private property.
Get updates direct to your calendar
We'll also be providing an update every Monday on Facebook and Antenno to show how we're tracking and which areas are on the delivery list for the upcoming week.
But in the meantime, here are the key points to remember
Look out for our education pack
Along with your bins, you'll receive an education pack which includes information on what goes in each bin, how to place them on the kerbside and a 12-month collection day calendar to stick on your fridge. This is inside your glass crate.
All your bins might not be delivered on the same day due to multiple delivery trucks. Please give it a day or two before contacting us.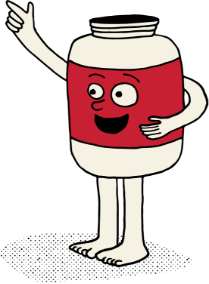 Our new Kerbside Collective service has two different bin sets for eligible households depending on where you live.
is for those deemed within our Urban area and will receive the following bins:
Rubbish bin:
140 litres (can be collected weekly
with a pay-as-you-throw tag)
Mixed recycling bin:
240 litres (fortnightly collection
alternating with glass recycling)
Glass recycling crate:
45 litres (fortnightly collection
alternating with mixed recycling)
Food scraps lockable bin:
23 litres (weekly collection)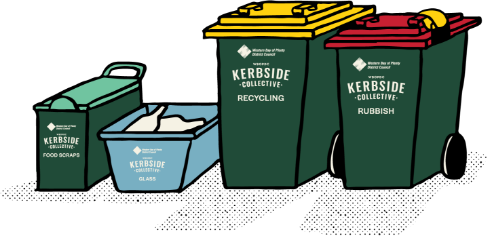 is for those deemed within our Rural area and will receive the following bins:
Rubbish bin:
140 litres (can be collected weekly
with a pay-as-you-throw tag)
Mixed recycling bin:
240 litres (fortnightly collection
alternating with glass recycling)
Glass recycling crate:
45 litres (fortnightly collection
alternating with mixed recycling)